A fun summer treat without the fuss
I don't know about any of you, but there are many "seasonal" treats that I seem to find myself craving all year long. The biggest being the classic summer smore. So gooey and delicious I can never seem to get enough of them. However; to my dismay smores are usually only consumed during the summer months for camping trips or firepit rendevous. Making it hard to satisfy my cravings during the months when building a fire is not as appropriate. Here is a fun recipe I have found to get the classic smore treat without the hassle of a fire.
S'Mores Cookie Bars
Don't be tempted to substitute mini-marshmallows for the fluff/creme. The marshmallows completely dissolve in the oven.
The marshmallow fluff/creme stays gooey and soft in the oven.
2 cups all-purpose flour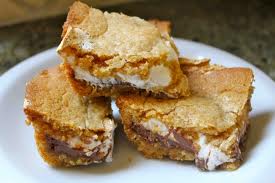 2 cups crushed graham cracker crumbs
1 teaspoon baking powder
1/4 teaspoon salt
1 cup butter, softened to room temperature
1 1/2 cups packed light brown sugar
1 teaspoon vanilla
2 large eggs
2 cups marshmallow topping, like Marshmallow Fluff or Creme
2 cups milk or semisweet chocolate chips
Preheat the oven to 350 degrees F.
Line a 9 x 13-inch pan with foil, leaving a 2-inch overhang on the 2 short sides.
Grease the foil with cooking sprayand set aside.In a medium bowl, combine the flour, graham cracker crumbs, baking powder and salt. In a large bowl, using an electric mixer on medium speed, beat the butter and sugar until light, about 2 minutes.
Beat in the eggs until well combined. Reduce the mixer speed to low and add the flour mixture, mixing until combined. Divide the dough in half. Press half into the bottom of the prepared pan until the dough is evenly flattened. Dollop the marshmallow topping on top of the cookie base and gently spread into an even layer. Sprinkle the chocolate chips on top.
Scatter the remaining dough over the top in clumps. Don't worry about completely covering the top, the marshmallow and chocolate chips should peek through. Bake the bars until golden brown, about 30-32 minutes. Cool completely. Remove the bars from the pan using the foil overhangs. Cut into bars and serve.